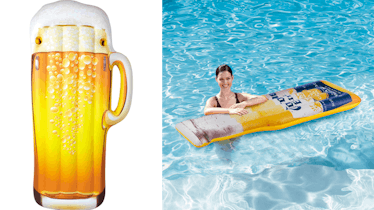 If You Love Beer, You Definitely Need These Pitcher-Perfect Floats For Summer
If you're 21 and up, there's nothing quite as refreshing as sipping your favorite brew on a sizzlin' summer afternoon. Now, if you add a pool into the mix, you've basically found yourself in the perfect summer situation. If you've got the image in your head of relaxing poolside with a cold one in hand, you're already embracing the "don't worry, beer happy" lifestyle. To turn that dream into reality, you also need to get your hands on some of the best beer pool floats.
Ditch the lounge chair and float into the weekend on a beer-inspired pool floaty. It's so easy nowadays to find a pool float for essentially every occasion. Seriously though, it's a pool float world, and we're just living in it. Yes, that's right, even a beer lover can get an inflatable for not only themselves, but also their brewskis.
Don't leave your drink behind when you want to take a dip in the water with any of the these cool beer floats. There are floats that feature cup holders, and ones that are exclusively for your cans. The party really doesn't ever have to stop, and I must say, your friends will be totally jealous of your pool selfies. So, when you send out postcards from your chilled-out summer vacay, make sure to write, "Wish you were beer."