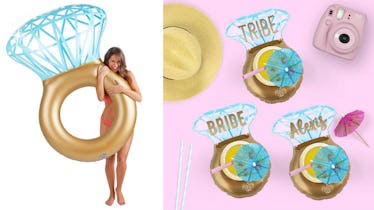 Bachelorette Party Pool Floats Exist & You'll Want Them All For The 'Gram
Target/Etsy
A bachelorette party weekend spent by the pool with your favorite drinks in hand sounds like the perfect kind of celebration, am I right? The warm sunshine is beating down, but there's a cool, refreshing breeze by the water. Imagine taking the party up a notch with some of the best bachelorette party pool floats to cruise on into the weekend festivities. It will take the shindig from fun to absolutely fabulous.
You've chosen a summer bachelorette party for a reason. You love the carefree vibes and beautiful weather that comes with the season, so a pool party plan is essential. Nowadays, you can't look anywhere without seeing a chic pool float. We're in a pool float age, and you have to jump on board.
Every bride tribe can find the right floats that are a perfect fit for the occasion. Get something monogrammed for each of the bridesmaids, or something huge so your whole squad can fit on it together. There are also pool floats for your drinks, so the party never has to stop. The bride already said, "yes" to her fiancé, so now it's your turn to say, "yes" to any of these seven bachelorette party pool floats for a summertime bash your main girl will never forget.