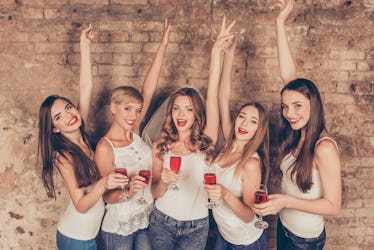 7 Bachelorette Party Themes For Fall If Your Bride Tribe Wants To Go All Out
Planning a bachelorette party for fall is almost as rewarding as any other season. Most people would highlight summer as an ideal time, but fall has a lot more perks than people give it credit for. The best bachelorette party themes for fall are literally just waiting for you to discover them and shower your bride in some well-deserved fun.
Fall is a tad cooler, but who's even worried about the weather when you're about to celebrate the almost married, lucky lady in your life? Picking the perfect theme with the other bridesmaids is important because it's an event aside from the actual wedding that the bride-to-be will remember for the rest of her life. No pressure, though, because like most large tasks we face in life, there are the magical wonders on the internet to guide you on your party planning journey.
The seasons are going to happen no matter what we have planned, so keep that mentality when you're planning a fall bachelorette party for your girl. There are endless opportunities, and she will be incredibly grateful for whatever you manage to put together for her. Luckily, you aren't treading into unknown territory with these party planning duties. Take some tips from ladies who slayed these themes and unknowingly placed down some helpful stepping stones for you.