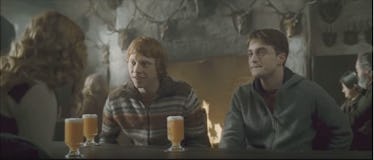 This 'Harry Potter' Bar Is A Magical Bachelorette Party Idea For The Muggle Bride
Your wand-waving, butter-beer-drinking, and lover of all things Hogwarts is getting married. And if she could have sent an owl to send you the news that you were one of her bridesmaids, she definitely would have. You and the fellow chosen muggles can't let her down — even if you guys have to work your accios off trying to give her the best bachelorette party ever. Luckily, you have plenty of resources to achieve those bachelorette party ideas for the Harry Potter lover, because it's literally a culture now.
There's hardly any kind of celebration that hasn't been plastered with a Harry Potter theme. You would think this trend was super current, but us millennials know that we were reading these books back in middle school, and agonizingly waited years for each movie to come out. There's no denying that the whole series has certainly put a spell on a good chunk of the population, including your bride-to-be.
You have to make her bachelorette party magical and enchanting. She should be rubbing her eyes and pinching her arm, because she feels like she stepped into one of the beloved books. It might sound like you have a lot on your plate — but luckily, you have the other muggles to make your bride's wildest dreams come to life.