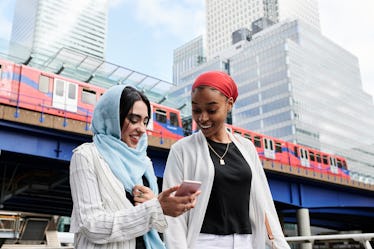 7 Awkward IG Interactions With A Partner's Parents That Are SO Cringe
Instagram is basically a filtered version of the Wild West. IMHO, no one has any idea how to use it — is it for networking? Friendship? Bragging? Shopping? Staying up-to-date with celebs? All of the above? If you find Instagram complicated, just imagine how your parents must feel about it — or, your partner's parents. If your partner's mom has ever commented something a little awkward on your Instagram pic, you're not alone — I spoke with a bunch of people about their awkward interactions with a partner's parents on the 'Gram, and you will laugh, cry, and possibly feel so uncomfortable you have to take a deep breath.
I dated a guy once whose mother replied to all my IG stories. At first, I found it adorable, but I actually have trouble managing all my communication, and I typically don't respond to Instagram DMs all that regularly (sorry, friends). I tried to always respond to her — she was my boyfriend's mom, after all — but I missed a few messages in a row. She sent a follow-up once that said, "Are you mad at me?" I felt horrible and uncomfortable, so I was relieved to learn I'm not the only person who has gone through this.
Read on to find seven stories of awkward interactions with a partner's parents that you can't wait to share with all your friends.