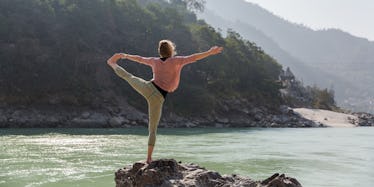 The 6 Yoga Poses You Need To Try For Better Balance & Less Clumsiness
If you're constantly tripping, falling over, or randomly bumping into things, you know the struggle that comes with being an innately clumsy human being. A consistent yoga practice can really help improve your coordination, especially if you're literally known among your friends as the person who has two left feet. Including a variety of yoga poses to improve balance in your routine practice is an easy and fun way to slowly but surely transition from clumsy fumbling to graceful movement in your everyday life.
As a yoga teacher, I constantly encounter people who avoid coming to class because of intimidating balancing poses that they think they'll never be able to achieve, and that can only be done by "advanced yogis" who appear to have it all together. Trust me, this couldn't be further from the truth.
Everyone starts somewhere, and the most challenging balancing asanas are the result of consistent practice, and honing in on mastering the "simpler" poses. Specifically, focusing on the transitions in between poses, and flowing seamlessly from one asana to the next, will vastly help your coordination skills and help you conquer more difficult poses with more ease.
Flow through this sequence, and do your best to go from one pose to the next slowly and with control. It might be quite difficult at first, but after a while you'll get the hang of it — and you'll be the most balanced babe around.