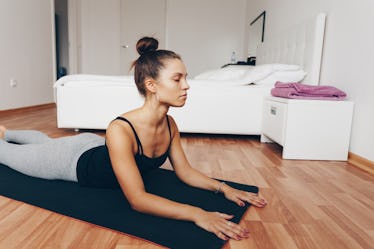 6 Yoga Poses That'll Help You Digest All Those Thanksgiving Leftovers You're Enjoying
Shutterstock
Anyone who thinks that delicious Thanksgiving food is reserved for one day only has clearly never experienced the sheer joy of leftovers. Stuffing, turkey, pumpkin pie, and cranberry sauce goodness can easily go on for weeks after Turkey Day, and it's literally glorious. But what's not so glorious is your seemingly permanent, achey food baby. That lump in your tummy needs relief ASAP, which is where a few yoga poses for stomach pain are sure to come in clutch.
Even if you're not about that Thanksgiving leftovers life, the holiday season is still very much upon us, and that means a whole bunch of scrumptious, homemade food and rich desserts are quickly coming your way. Heck, even when it's not the most festive time of the year, it's only human to overindulge at times and find yourself dealing with a not-so-happy tummy after the fact.
Thankfully, there are lots of yoga poses that are amazing for dealing with indigestion, bloating, and cramps. Plus, yoga teaches you how to breathe through uncomfortable moments, and gently soothes your mind in the process. Having these tools and strategies at the ready is the best way to overcome any discomfort you might be feeling when it seems like your belly is about to birth a food baby right on the couch. Here are a few poses to try the next time your tummy is about to burst.