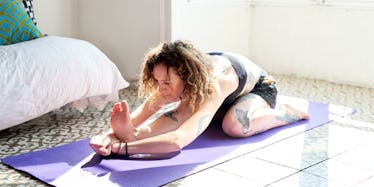 5 Yoga Poses For Your Bloated Belly After You're Done Eating Your Thanksgiving Feast
Thanksgiving is quickly approaching my friends, and that means copious amounts of savory dishes and sweet desserts to indulge in to your heart's content. TBH, if bringing an extra pair of pants to change into after Thanksgiving dinner is wrong, I never, ever want to be right. Alas, the sudden feasting isn't easy on your digestive system, and it'll probably leave you feeling bloated AF. Rest assured, though, there are a few, key yoga poses to do after eating that'll give you and your belly the relief you deserve.
Yoga is an incredible way to detoxify the body and ease those yucky feelings you get after eating a lot, like indigestion, cramping, bloating, and constipation. The poses slowly but surely allow your digestive system to ease back into its normal functioning, and let's be real, it probably needs that assistance after you go all out on delicious, but nonetheless heavy dishes like stuffing and mashed potatoes during Thanksgiving dinner.
And yes, if you've ever had some serious trouble going "number two" after enjoying a really big meal, yoga can definitely help you poop. And, I'm sorry, but there are few feelings in this world more satisfying than being able to poop with ease after a huge meal (fight me, I dare you).
These five yoga poses are a surefire way to soothe your bloated belly after your festive feast, but remember, you should probably wait at least a couple of hours between eating and flowing so you don't inadvertently upset your stomach even more. Or, better yet, wake up the very next morning and start your day with these restorative poses (followed by that glorious poop we talked about).