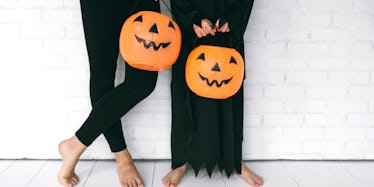 This Is The Spooky Yoga Flow You Need If You Want To Get Into The Halloween Spirit
With Halloween just a few weeks away now, it's officially time to get as spooky as humanly possible. In between pumpkin carving, costume planning, and jammin' out to your favorite festive jams, you might want to squeeze in a quick yoga flow to get those muscles strengthened and lengthened — you know, so your arms are in optimal condition for holding two candy baskets instead of one while you trick or treat this year, amirite? That's why incorporating some yoga poses for Halloween into your next flow will allow you to find your zen while simultaneously preserving the proper, frightful, festive mindset to pay homage to All Hallows' Eve.
This short sequence will inspire you to bring out your inner child with the playful, imaginative, and child-like names of the poses. Or, if you're more into the dark, twisted, haunted side of Halloween, you could totally bring an eerie vibe to just about all of these poses, and scare anyone who walks into the room while you're practicing.
It's your practice, and that means you can make it as tame as It's the Great Pumpkin, Charlie Brown, or as disturbing and mildly scarring as The Ring.
Regardless of how you decide to execute this flow, these six yoga poses will definitely immerse you in the Halloween spirit.