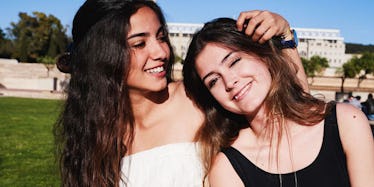 6 Red Flags That You're Committing To A Relationship For The Wrong Reasons
Right and wrong reasons aren't just for The Bachelor, folks. There are plenty of wrong reasons to get into a relationship, which go beyond securing a Neil Lane ring and becoming an Instagram influencer. Society has largely told young women that securing a relationship is, well... important. We're told from childhood that we need to find our Prince Charming for our story to be complete. That being single equates to loneliness and inability to get something we should have — a happy ending. Now, a lot of us know that's a bunch of bullsh*t and being single is perfectly OK, but it makes sense to have swallowed at least a bit of that idea.
Because of that, it may be easy to jump into a relationship when the opportunity presents itself. You can easily convince yourself you like that person, when in all reality, you like the idea of a relationship much more. It makes sense: Relationships have perks, for sure. But you should only be committing to someone you actually want to be in that relationship with. The following reasons are all red flags you shouldn't be jumping into a relationship or making things exclusive or official too soon. I spoke to online dating expert Julie Spira on why the following are wrong reasons. Read on to see for yourself.