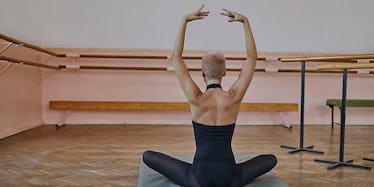 6 Workouts That Make You Feel Good When You're Having The Worst Day Ever
Some days it can feel like every little thing goes wrong, and it honestly sucks. Between stress, an aggressively long to-do list, and all the other sh*t life often throws your way, you might feel like it's nearly impossible to turn a bad day around. However, there are a few workouts that make you feel good in both your mind and your body, that just might be the cure to those dreadful days.
According to Livestrong, moving your body (especially when you're feeling down) releases mood boosting chemicals called endorphins, which literally make you feel like you're on top of the world. If you exercise on the reg, you totally know what I'm talking about. But, though it's true that any old workout has the potential to make you feel absolutely incredible, opting for mind-body exercises on those crappier days, will take your feel-good hormones to the next level.
Workouts that work your body both physically and incorporate some sort of mental or spiritual aspect are proven to decrease stress and anxiety levels very effectively.
So, next time you get into one of those moods and feel like your day just could not get any worse -- try one of these six workouts to turn that frown upside down.