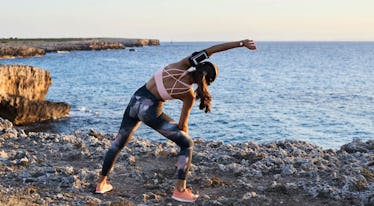 6 Ways To Get Over An Ex That'll Actively Improve Your Health Along The Way
Getting over an ex, especially one who meant the world to you, can be really hard. You want to move on with your life, but then you see something or go somewhere that makes you think of them. You miss them, then you distract yourself enough to not miss them, and then something small reminds you of them — it's just a never-ending cycle! On the path to getting your closure and moving on, you may find your emotional, physical, mental, and even spiritual health lacking. But fortunately, there are ways to get over an ex that'll improve your health instead of hinder it, and they're really not that hard at all.
Breakups are almost never easy. The days, weeks, and sometimes even months after can be incredibly difficult, but everyone experiences heartbreak in some capacity. Some breakups may hurt more than others, but you can and will get through each and every one of them. "What's most important is that you let the relationship and the breakup move you forward," spiritual matchmaker Heather Kristian Strang tells Elite Daily. "Let the heartbreak break your heart open, so that your relationships and breakups get better and better and better. Then, one day, you'll meet someone who you'll never break up with, and who will never breakup with you. Let all of your relationships serve your growth, because they are all leading you to the greatest love of your life." Here's how you can start.