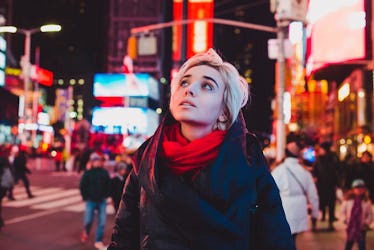 Here Are The Best Ways To Recharge If You're An Extrovert Who Secretly Hates Going Out
If I've learned anything growing up, it's that people want to neatly file personalities under two categories: extrovert and introvert. While extroverts are typically recognized as the social butterflies of society, making the rounds from one event to the next with a smile, introverts don't necessarily have a monopoly over being the wallflowers of the world. There are introverts who aren't terrified of group settings, and believe it or not, there are extroverts who feel exhausted after too much socializing. Not unlike their socially anxious counterparts, there are ways for extroverts to recharge after a day of overexerting themselves at work, school, and happy hours galore, because at the end of the day, there can be such a thing as being too social. No matter what type of person you are, "me time" is blessing.
While there are certainly some people who fall under the linear definitions of introvert and extrovert, there's a strong gray area that often gets overlooked. These peeps are called ambiverts, and ambiverts can be both introverted and extroverted, depending on their mood. Taking that into consideration, it's kind of unfair to assume extroverts are always up for drinks after back-to-back meetings at the office. After all, everyone has their limits; it's simply a matter of identifying your own.
So, whether you live for or absolutely loathe group outings, too much of a good thing is almost always a bad thing. If you're an extrovert looking for a way to unwind after too much face-time, here are a few ways to recharge and reset before doing it all over again tomorrow.