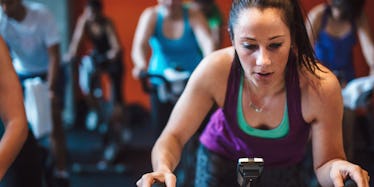 People Who Love Cycling Never Let These 10 Struggles Ruin Their Workout
Ah, cycling. It's a killer workout that so many cardio lovers absolutely swear by. From what I've seen, you either love cycling, or you low-key despise it. But the people who love cycling know better than anyone that there are some classic struggles that never fail to come up during a class. Despite those struggles, though, these endorphin-seekers will always come back for more.
Indoor cycling is one of the most popular workouts in the fitness world these days, mainly because it leaves your endorphins buzzing, metabolism soaring, and a goofy smile plastered on your face, even hours after the fact. SoulCycle, in particular, has an almost cult-like following of cycling enthusiasts who never miss a class, because it just makes them feel that incredible.
Whether you're hitting up your favorite instructor's class at Soul, or you frequent the cycling classes included in your local gym membership, you probably know that some aspects of cycling can prove to be a struggle and a half, to say the least.
If cycling is your ride-or-die workout (pun definitely intended), then these 10 struggles are, without a doubt, so freaking real to you — but they'll never come between you and your beloved bike.