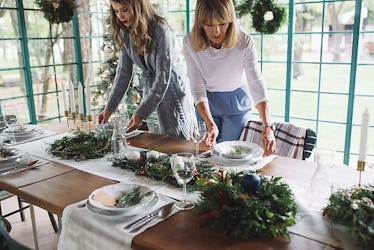 6 Vegan Christmas Dinner Recipes That'll Add Something New To Your Spread This Year
I don't know about you, but when I think about Christmas dinner, I think of meat, cheese, cream, bread, and tons of baked goods. No, Santa's big day isn't traditionally a mealtime paradise for vegans or those trying to maintain a plant-based diet. But even for those of us who aren't strictly vegan, all those super rich foods can sometimes wreak havoc on the digestive system, and they're more than a little lacking in the fresh veggies department. Trust me, I love a nice glazed ham as much as the next gal, but this year, vegan Christmas dinner recipes are on the top of my list to make for the holiday feast.
Whether you're hosting a big shindig at your house or you're planning to head over to grandma's crib — where there is sure to be a rack of lamb and loaded mashed potatoes waiting for you — give some of these delicious vegan dinner ideas a try as an alternative to the regular, holiday mealtime staples. While people might scoff at your vegan dishes at first, you know they're going to be making extra room on their plate for some of these, not to mention asking for the recipe on the sly.