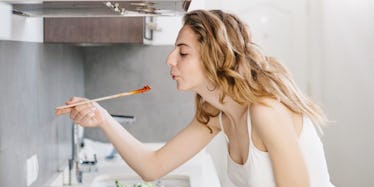 9 Vegan Meal Prep Ideas If You Just Went Plant-Based And Have No Idea Where To Start
One of the most difficult aspects of becoming a plant-based eater after following a traditional Western diet for so many years is ensuring all the essential nutrients, vitamins, and minerals are still accounted for in each meal. Omnivores depend on meat as sources of protein and dairy for calcium, but believe it or not, anything animal products can offer, vegetables can, too (for the most part, at least). All it takes is a little research, some trial and error, a few supplements, and a lot of planning. It may feel tedious at first, but learning how to meal-prep vegan foods is just as essential to your time management as it is to your diet.
Not to sound preachy, but I've been meal-prepping for a little over three years now, and, to be honest, it's made my life so much easier. A quick Google search will offer you literally thousands of ways to meal-prep according to your diet, but while meat-eaters can roast an entire chicken on a Sunday afternoon and have basic meals for days to follow, plant-based eaters have to get a little more creative if they crave variety.
That being said, every diet plan has its staples, so to ease into plant-based eating, beginners should find their favorite foods and build from there. Here are a few basic recipes to get you started.
1. Hummus
Although most pre-packaged batches are still pretty healthy, let's skip the store-bought hummus for now because it's super easy to make at home, will last up to five days in the fridge, and you can eat it for basically any meal (on a sandwich, on savory toast, or with chips or veggies for dipping).
A basic hummus recipe features chickpeas, tahini, lemon juice, garlic, and olive oil. Start from there, and add in your favorite spices (I personally love to add garlic and paprika), as well as veggies, like red pepper.
Experiment with different combinations each week, and make sure you write down what works and what doesn't for future reference.
2. Roast Or Steam Your Vegetables
Obviously, if you're leading a plant-based lifestyle, vegetables are going to be a staple for most of your meals. Roasting and steaming large quantities of broccoli, cauliflower, mushroom, sweet potato, rustic potato, and zucchini (if you couldn't tell, your options are practically endless) will make it easier for you to assemble meals if you're typically short on time.
You can either buy your vegetables raw, and rinse and roast from there, or buy your vegetables frozen (often times this is the cheaper option), steam, and then roast.
3. Kale Burgers
Looking for a red meat substitute to curb your cheeseburger craving? Same. I've been scouring the internet to find a plant-based alternative to my favorite barbecue delicacy, and while I'll admit kale patties definitely don't taste anything like cow's meat, they're a crowd-pleaser all the same.
I found this recipe scrolling through Caitlin Shoemaker, aka From My Bowl's Youtube archive, and can't get enough. It's fairly simple to make, and her recipe makes about six patties that you can store in the fridge and reheat at any point during the week (or next).
4. Vegetarian Chili
There are a ton of vegetarian chili recipes out there, but a basic three-bean bowl is great for beginners because the hardest part of the process is just compiling the ingredients into a crock pot.
To make a batch that yields up to eight servings, you'll need vegetable broth, one can each of pinto and kidney beans, two cans of black beans, as well as two cans of diced tomatoes, red onion, and seasoning like salt and chili powder to taste.
This is a great on-the-go option to pair with corn chips for lunch, or an easy reheat for dinner.
5. Baked Oatmeal Muffin Cups
If your schedule doesn't allow for lavish breakfast dishes, these vegan oatmeal breakfast cups will not only suffice, they'll actually satisfy your hunger and your taste buds.
She Likes Food founder Isadora (Izzy for short) developed not one, but six baked oatmeal recipes to choose from, with flavors like apple cinnamon, peanut butter banana, and carrot sweet potato to curb every kind of craving. Each variation is super nutritious, only takes 20 to 25 minutes to bake, and can be eaten as a meal or snack.
6. Chia Seed Jam
This simple jam is better than store-bought because, by making it yourself, you eliminate processed or sugar substitutes, and you get the added benefit of protein and healthy fats from the chia seeds.
It also only requires two ingredients (frozen berries and chia seeds) and two steps to make (three if you count pouring it into a glass jar for storing), so it's absolutely perfect for the plant-based novice.
Spoon it over hot oatmeal for breakfast, toast, or make a peanut butter and jelly sandwich for lunch. You can even use it as a dessert topping if you're into it.
7. Cucumber Juice
While I personally don't believe in "juicing" as a diet plan, I agree that implementing a few juices into a broader plant-based diet can provide a great source of vitamins and nutrients.
This cucumber juice recipe from Everyday Food's channel combines lemon, cucumber, and apples in a food processor for a boost of vitamins A, C, and K. According to Shira Bocar, editor at large for Martha Stewart Magazine, the best time to drink a juice is on an empty stomach to maximize the absorption of vitamins, minerals, and enzymes.
While I wouldn't necessarily suggest prepping a big batch to last throughout the week (over time, the enzymes lose their powerful effects on the body), I suggest beginners separate the ingredients into baggies to have at the ready when it's time for a refreshing glass of juice.
8. Smoothies
This is probably the easiest meal-prepping tip I can offer to plant-based beginners.
As much as vegetables are a vital part of your diet, fruit is going to be a key staple, as well. A simple way to meet your fruit goals is to whip up a smoothie for breakfast, lunch, a snack, and even dinner if you're craving something light and sweet.
In a freezer-safe baggie, store your favorite smoothie ingredient combinations like banana raspberry, kiwi mango, and so on. You can even add greens like spinach and kale to make the blend even more nutrient-dense. In the morning, pour the fruity mix into a blender and add your liquid base (I prefer almond milk, but you can also use water, coconut water, etc.).
Pro tip: If you're less interested in slurping, and more inclined to spoon out your smoothies, add ice to the mix for a thicker consistency, pour into a bowl, and add dry toppings like coconut flakes, flax seed, granola, and more.
9. Creamy Pasta Salad
While going plant-based isn't exactly an excuse to go overboard on complex carbs, there's room for pasta in any diet. Simply Quinoa's recipe calls for plant-based pasta, olives, cucumbers, tomatoes, and an original sauce that's sure to make your mouth water.
Whether you choose to eat it cold or warm it up, this dish is excellent for lunch, dinner, or simply any time you're craving a little pasta.