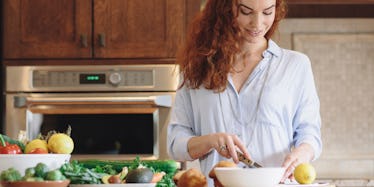 8 Quick, Easy Swaps You Can Make If You Want To Start Eating A Plant-Based Diet
Plant-based foods have become super trendy among bloggers and social media influencers in recent months, but while going vegan might be the "it" way of eating right now, there really are a ton of positive benefits to reap from making this transition. If you've been wondering how to start eating plant-based foods yourself, fortunately, it has become super easy to swap meat and animal products for plant-based items.
Plant-based lifestyle expert of Brussels Vegan Kim-Julie Hansen tells Elite Daily,
Replacing animal products with plant-based options can greatly improve your overall well-being and health for many different reasons. One of the main reasons is that fiber is essential for proper digestion, and animal products contain no fiber all. Replacing meat with a mix of legumes, nuts, seeds, and fresh fruits and vegetables, for instance, will still give you all the protein you need while simultaneously adding healthy fiber to your diet. Furthermore, meat generally takes up to 72 hours to digest (precisely because of the lack of fiber), which can be very draining and tiring for the body. Plants only take a few hours (often less) to digest, so increasing your intake of fresh produce and other plant-based foods, is likely to increase your energy levels as well.
Are you sold yet? Just in case you're still unsure how you can make the transition, check out these easy substitutions to get started.
1. Black Bean for Beef Burgers
Burgers are a Western diet staple, especially in the summertime, but just because you're following a more plant-based menu doesn't mean you can't partake in the tradition.
Worried about not meeting the daily protein intake? Andrea Nordby, head chef of Purple Carrot, tells Elite Daily,
The amount of protein needed each day is different for every individual. However, the average is somewhere between 40 and 90 grams per day. While many people think you need to chomp on steak, poultry, and eggs, plant-based foods, such as legumes, spinach, and mushrooms, are also high in protein.
Black bean burgers are super high in protein and, bonus, super cheap! Additionally, black beans contain monounsaturated and polyunsaturated fats, which, in contrast to the fat in red meat, is actually beneficial to heart health.
2. Buffalo Cauliflower For Hot Wings
When I went plant-based initially, I wasn't worried about giving up cheeseburgers or hotdogs. My favorite fallback meal whenever I was feeling too lazy to cook, or unsure of what to order at a restaurant, was always chicken fingers.
Once I gave up meat, however, I realized it wasn't the taste of chicken that I loved so much -- it was the seasoned, breaded coating.
There are a ton of recipes for cauliflower wings floating around the internet, but my favorite is Jenné Claiborne of Sweet Potato Soul's southern-inspired recipe. It really is finger-lickin' good, I swear.
3. BBQ Tofu For Chicken
A lot of people are hesitant to eat tofu when they begin a plant-based diet because it's a soy product. However, soy is fine in moderation, and tofu just so happens to be a prime source of protein for those who follow a vegetarian or vegan diet.
I wasn't so sure about the taste of tofu, but when my husband cooks it in barbecue sauce, it's a serious game-changer. Add over jasmine rice for a more filling meal, or make it fun for football season by pairing a serving with some fries.
4. Plant For Whey Proteins
I tried really hard to track my macros back in college, and when I was low on protein, I'd practically inhale a shake or smoothie with a scoop or two of whey protein -- big mistake on my part.
Whey is the liquid leftovers after milk has been curdled and strained, so when I made the switch to eat more plant-based foods, I immediately swapped whey for plant protein, and saw a dramatic difference in how my stomach was able to break it down. Now my stomach doesn't hurt every time I drink a shake, and it's so worth the swap.
5. Veggie And Hummus For Turkey Sandwiches
I am a creature of habit. Case in point: My mother packed me a sandwich with smoked turkey and mustard on white bread for my first day of elementary school; that would be my lunch every day until I graduated high school.
So, while it's not a direct swap, I know a thing or two about delicious sandwiches, and when you pair roasted or raw veggies with a generous serving of hummus on a ciabatta roll, your taste buds will be in for a serious treat.
6. Lentils For Traditional Taco Meat
Lentils are low in cholesterol, high in fiber, and are another excellent source of plant-based protein, ranking the third highest out of all other legumes and nuts. My first experience with lentils was a basic bowl paired with jasmine rice and flavored with a medley of spice. This was great and all, but I wanted to know how I could utilize the legume in fancier ways.
Change up #TacoTuesday by subbing lentils for beef. You'll benefit from all the extra ingredients, and the best part of any plant-based meal is you'll need more to fill you up -- so seconds, even thirds, are totally encouraged!
7. Potato For Chicken Quesadillas
White potatoes are high in fiber and a good source of potassium, copper, manganese, and vitamin C. They are also loaded with antioxidants and can fight off cardio vascular disease.
As an Irish woman, while giving up meat was a project in and of itself, I'm super thankful potatoes are plant-based-approved. I came across a recipe in one of Lisa Lorles's Youtube videos, and was inspired to experiment myself.
Simply steam your potatoes, mash them in a bowl, and spread over your tortilla. Add toppings like vegan cheese and vegetables before layering on another tortilla and warming in a pan over the stove.
8. Cashew For Cow's Milk Cheese
Cashew cheese contain B vitamins, calcium, vitamin E, and are a decent source of fiber and protein. Plus, this stuff is traditionally made from blended cashews, spices, and nutritional yeast for even more added nutrients.
I am in unrequited love with dairy. I love cheese, but consuming an abundance does nothing good for my body, and if you know about this life, making the swap to nut-based cheeses could make all the difference.