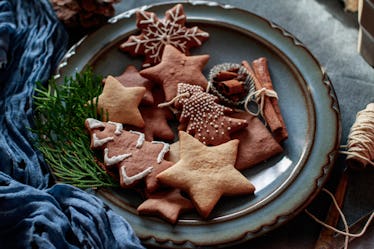 14 Vegan Christmas Cookie Recipes You'll Want To Keep Baking Long After The Holidays Are Over
The holiday season can be tricky to navigate if you have any sort of specific health plan or lifestyle that you're trying to stick to. It's during this time that people practically force sweet treats upon you at the unlikeliest of moments, even if they're things you wouldn't normally want to eat, or even foods that make you feel awful after the fact. If you already know this is the case for you, or even for some of your friends, why not take the reins and whip up some vegan Christmas cookie recipes that'll help everyone feel included in all the holiday fun? After all, 'tis the season for literally all of us to enjoy and indulge in our favorite treats.
It doesn't matter if you live a vegan, gluten-free, or sugar-free lifestyle. There are still so many recipes out there to choose from that will put you in the holiday spirit without compromising your health or lifestyle decisions. In fact, some of the most delicious cookie recipes don't need any dairy, gluten, or sugar to satisfy a sweet tooth.
When you decide to get inventive in the kitchen, you can find success in the most random places. For example, some of these recipes use applesauce as a butter substitute, while another uses tofu. You might be used to the standard flour/egg/milk ingredient list, so it's pretty cool to realize just how many ways there are to make, say, a chocolate chip cookie, for example.
Here are 14 vegan Christmas cookie recipes that you'll want to make long after the holidays are over, because everyone needs a little something sweet to help them get through the dark, frigid cold winter months.