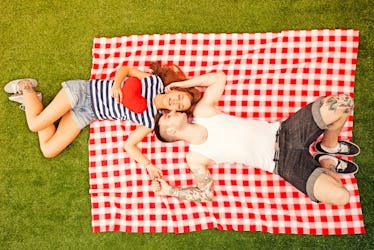 6 Valentine's Day Success Stories That Are Sure To Make You Tear Up
If only Valentine's Day was how it appears in the movies, right? Your one and only surprises you with a plan or present so perfect, so intimate, it completely surpasses anything you could have imagined. No cliché moves here — the holiday is brimming with old-school romance that goes way beyond a box of chocolates or a dozen roses. As it turns out, there is such a thing as Valentine's Day success stories. Indeed, some couples do actually go above and beyond to make their one and only feel loved.
From botched dinner plans to mismatched gift exchanges and unrequited declarations of love, there are many ways that Valentine's Day can go wrong. That said, there are also so many ways it can go right — and luckily, most peoples' expectations for Valentine's Day aren't as extravagant as one might expect. According to a Groupon survey from 2017, a staggering 71 percent of people say it's not about how much money is spent on Valentine's Day, it's about quality time spent with their partner.
In other words, planning the perfect Valentine's Day may seem daunting, but it's totally possible to crush it — with a little bit of preparation and plenty of thought.
Here are six stories that epitomize Valentine's Day success.