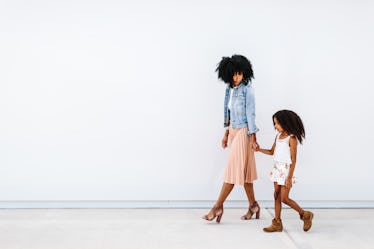 6 Sweet Traditions To Start With Your BFF's Daughter Now & Continue Forever
You love your best friend, and you'd do anything for her. The two of you have done life together, laughed together, and cried together. You're sure you can get through anything else life throws at you — and it's because she's right there by your side. There's no one that can come between you. Well, there wasn't anyone, at least... until your best friend had a daughter. She might have been slow warming up to you at first, but you quickly realized you might love this little human more than the world. After all, it's like hanging out with the younger, more hilarious version of your bestie. So, now it's time to start building on being the best auntie you can be — and that means getting some traditions to start with your best friend's daughter in order.
Coming up with and sticking to traditions can be hard — I won't lie. There's a ton of pressure on getting it right, and making sure it's the right tradition for you two to share. You want to make sure it's fun and enjoyable for the both of you, and relatively easy to organize. After all, it's not a tradition if it doesn't continue from year to year, right?
Luckily, you don't have to do much thinking. These six traditions are fun, easy, and completely flexible to what you and your BFF's daughter would like best. Now, go get started.