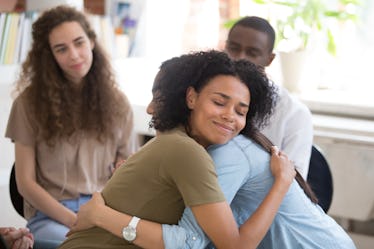 6 Tips For Coming Out To Friends, Because Opening Up Can Be Freeing
Shutterstock
Your best friends could probably tell you which Spice Girl or Office character you're most like better than any BuzzFeed quiz. Still, no matter how close you are to your friends, expressing your sexuality and gender identity can be pretty flipping intimidating. No matter who you are or where you're at in your own process, these tips for coming out to your friends may help you feel calm and collected as you open up to your pals.
"The 'coming-out process' is deeply personal and very much about you and not about other people," Chris Bright, director of public training for The Trevor Project tells Elite Daily. "Coming out can lead to beautiful, magical things like all of your friends accepting you, getting to date someone the way you want to, and/or getting to express your gender the exact way you want to, but we also know that some communities aren't as accepting and sometimes people come out and they loose stability and safety."
Regardless of where you are in your own queer journey, explaining your gender identity and sexuality to your friends can be a little daunting. If you're feeling ready to open up, here are six expert tips.