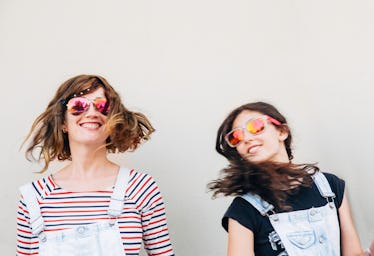 6 Times You Got Into Trouble With Your Sis As Kids That You Still LOL About
Growing up, my sister and I were rarely friends. We were pretty much always fighting about something, whether that was who got to sit where in the family van, who got to stay up later, or who claimed dibs over the TV remote. Looking back, most of our childhood was spent bickering rather than playing on the same team. On the rare occasion that we did team up, it made for some pretty hilarious and memorable stories, especially the times you got into trouble with your sister.
You know exactly what I'm referring to -- when you planned the ultimate pranks with your sister. You executed a plan you thought would run super smoothly, and then everything went so downhill, real fast. It was hilarious then, even if you did end up getting in trouble for it, but it's even more hilarious now (like literally, on the ground laughing, funny). These are the memories you'll look back on for the rest of your life.
If you were a trouble maker, you know you got into trouble a million times as a kid. One of these six things might just ring a bell from your days causing mischief with your sis.