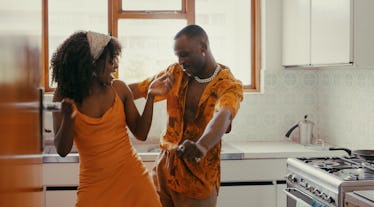 TikTokers Are Sharing At-Home V-Day Date Ideas You & Your SO Will Be Sweet On
Delmaine Donson/E+/Getty Images
Every day you get to spend with your boo is a special one, so it's time to make this Valentine's Day sweeter than the rest. Thankfully, there are so many creative TikTok Valentine's Day date ideas to try at home so you and your quarantine cutie can have the most magical night. From enjoying a scrumptious fondue to making a V-Day charcuterie board, the options are truly endless.
Spending your day of love at home not only creates a cozy and intimate date, but it also ensures you're following the Centers for Disease Control and Prevention's (CDC) safety guidelines. The CDC advises celebrating the holidays at home or virtually to protect your household and others from potentially spreading and/or contracting the coronavirus. But, staying home for V-Day gives you the opportunity to be extra creative with these TikTok date ideas.
You can make your special day swoon-worthy by recreating any of these TikTok Valentine's Day date ideas at home. To have a heartfelt night in with your partner, set up a cozy campout in your living room. Or, get into the loving spirit by making cotton candy cocktails. However you decide to spend your Valentine's Day, your time together will be amazing since you're with your person.