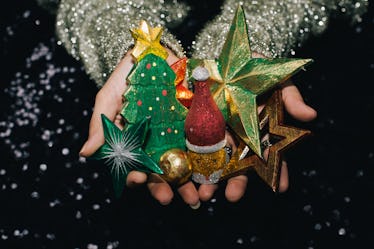 6 Thoughtful Gifts To Get Your Partner If You've Only Been Together A Few Months
It's that time of year, y'all. With the holidays in full swing, don't be a scrub and wait until the last minute to get something for your new bae. And don't worry. If you've just been dating for a few months, and you're not sure exactly what kind of present protocol to follow, coming up with an inexpensive, yet thoughtful gift for your partner is always a good route to go.
Let's face it: Your first holiday season with someone new can definitely be a bit stressful. If you've been dating for more than a few weeks, then this person is probably going to be expecting a little something for the holidays. But if you've only been dating under three months, don't feel like you necessarily need to go all out. At the end of the day, it's the thought that counts more than anything else.
But first things first, when it comes to figuring out a thoughtful present, you need to start listening more closely. We can all be pretty forthcoming about things that annoy us, which can turn out to be the perfect clue for what to get someone. Are they always complaining that they can't find their keys? An artsy key hook or decorative dish could be a perfectly practical gift for them. If you're still struggling to think of something, a shared experience is a safe bet, too — think concert tickets, reservations at a trendy new restaurant, or theatre tickets. Here are six more gift ideas for the new boo in your life.
1. Something Edible
Food-related gifts are honestly never a bad idea. If you're on a tight budget, the good news is that there are plenty of delicious treats out there that won't force you into bankruptcy. Dating a sugar fanatic? Why not indulge their sweet tooth with a couple of giant gummy bears, or even a personal-pizza sized gummy. If you're got a bit more to spend, then why not try a classy Edible Arrangement with plenty of chocolate-covered fruit?
2. Leather Journal
If you're dating an artsy type — or even just someone who would appreciate something well-made, a nice leather journal would make an awesome gift. But be aware, if you are dating someone who might be offended by the thought of walking around with a piece of real leather, then you're definitely going to want to opt for a non-leather option. Thankfully, there are tons of awesome journals with cool designs out there that are totally leather free. And if they already have a journal, but they're still an old soul who likes to hand write, then some badass stationary will likely win them over.
3. A Cool Print
Art's nice, and gifting some to your new boo presents the perfect opportunity for you to prove that you've been paying attention and know their taste. Getting them what you think is a cool print is a bold move, considering there is a chance that they might not like it. But even if they secretly aren't into it, if they're into you, then chances are, they'll still love it because you got it for them. Plus, in the early stages, it's always a good idea to give gifts that will remind them of you.
4. A Cool Phone Case
This is a great gift — even though they likely already have one. It's a pretty stealthy way to keep you on their mind — you know, since they're looking at their phone all day — especially if you can get your hands on a phone case with a motif you know they'll love.
5. A Pair Of Gloves
Assuming you live in the colder regions, you can never have too many pairs of gloves. Want to make it extra cute? If you're near the snow, then why not pair this gift with a snowman-building excursion, complete with a thermos of hot cocoa. Thankfully, they'll have their new pair of gloves to keep their hands nice and toasty.
6. A Silly Holiday Sweater
So your new boo's got some jokes? Well, then a silly Christmas sweater is just the thing to keep them warm and laughing. There's a pretty good chance that it just might turn out to be one of their favorite cool-weather clothing items.
If you're still feeling stumped on exactly what to gift someone you've only been dating for a few months, remember that, in the early stages of dating someone, spending a ton of money really isn't necessary. If you've got the money to burn, then by all means, have at it. But if you're on a budget, like most of us, then your best bet is to go for something that will keep them thinking of you.
Check out the entire Gen Why series and other videos on Facebook and the Bustle app across Apple TV, Roku, and Amazon Fire TV.
Check out the "Best of Elite Daily" stream in the Bustle App for more stories just like this!