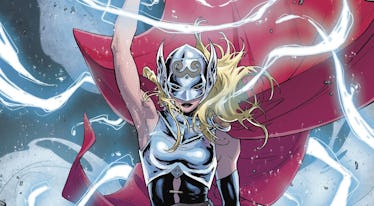 6 Thor Costumes For Women That Will Electrify Your Halloween Party
Marvel
Since the world is already pretty much experiencing an apocalyptic Ragnarok right now, there's never been a more appropriate time to dress up as everyone's favorite Norse god/superhero. With the release of Thor: Ragnarok coming the week right after Halloween this year, channeling your inner thunder god at your friends' Halloween parties will be timelier than ever. And ladies, Thor isn't just a dude costume. There are tons of ways for women to dress as Thor this Halloween as well as the guys. In fact, anyone who keeps up with Marvel comics will tell you that seeing a female Thor is not all that surprising.
As of the 2014 Thor storyline in the Marvel comic book series, Thor is actually a woman nowadays. After the original, male Thor loses his ability to pick up his mystical hammer Mjolnir, a mysterious woman takes the hammer instead and assumes the new identity of Thor. It's later revealed that the female Thor is actually Jane Foster, the scientist portrayed by Natalie Portman in the Marvel Cinematic Universe. The male Thor is now continuing his heroics under his surname Odinson as Jane wields Mjolnir as the new Thor.
So yeah, if any nerdbros try to give you sh— for dressing up as a female Thor, you can inform them that Thor is canonically a woman in the Marvel universe and has been for about 3 years. Now let's get into how you can go full thunder goddess this Halloween.
1. Cosplay Made
Women's Thor Costume, $34, Cosplay Made
Get a feminized version of Thor's battle armor easily and cheaply with this recreation from the cosplay site Cosplay Made.
2. Spirit Halloween
Men's Thor Costume, $60, Spirit Halloween
Or if you'd rather show off some muscle, you can go as the Thor played by Chris Hemsworth in the Marvel movies that is probably most familiar to people. The padded muscle costume from Spirit Halloween will set you back $60.
3. eBay
J Valentine Costume, $66, eBay
If you are looking to be more true to Thor's look in the comic books rather than the recent movies, then this take on the classic Thor is a good direction to go. The costume, which includes the hero's iconic headpiece, is kind of pricey at $66 on eBay, but you can't argue with a full an complete look.
4. eBay
Thor: Ragnarok Costume, $58, eBay
To channel your dark side while still giving staying true to your Thor fandom, there's nothing better than Cate Blanchett's new goddess of death villain Hela from Thor: Ragnarok. You can actually get a really spot-on recreation of Hela's intricate jumpsuit on eBay for $58. That crazy headpiece doesn't come with it, though.
5. Costume Discounters
Asgardian Warrior Valkyrie, $35, Costume Discounters
Hela isn't the only new face fans will be seeing in Thor: Ragnarok — we will also meet the badass Asgardian warrior Valkyrie, played by Tessa Thompson in the movie. You can get her sleek look from Costume Discounters.
6. Hot Topic
Thors Mjolnir Replica, $12, Hot Topic
No Thor costume could possibly be complete with the hero's mystical, power-giving hammer Mjolnir. There are a lot of options when it comes to finding the perfect Mjolnir for you, but this recreation of the hammer from Thor: Ragnarok being sold at Hot Topic for $12 seems like a pretty good bet. Then again, you can also find variations selling for as cheaply as $11, and even much more intricate recreations of the infamous hammer going for a whopping $250 if you really need things to be as authentic as possible.
However you want to bring your inner thunder goddess to life this Halloween, you have a ton of options to do it. It's not just a guy's costume anymore.