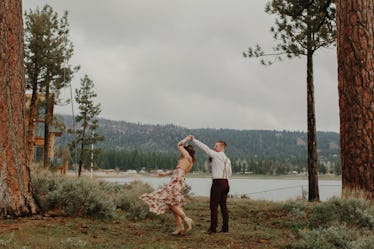 6 Things Your Wedding Band Might Want You To Know Before The Big Day
Wedding planning can be both exciting and stressful at the same time. Will you decide on a buffet or plated table service? A pale pink or turquoise color scheme? Red velvet or vanilla wedding cake? There are so many details for you to consider to make it your own. Even once you've made so many decisions, there will inevitably be more planning that needs to happen. One of the biggest details to finalize, of course, is what kind of entertainment you want to book for the reception. If you decide to have a live band, there are a few things your wedding band wants you to know before the big day.
Throughout college and even after, I gigged with a wedding band. I was a lead singer for two years, a band manager for one, and a liaison for another year and a half after that. Throughout that time, I've worked on over 100 weddings, and have built up quick tips for couples I've worked with. Even though I no longer work in the wedding industry, I still enjoy weddings and always want couples to have the most memorable day of their lives. That's why I've compiled this list of things that — at least, based on my experience — I believe wedding bands may want couples to know before the big day.
I consulted a few friends (and past coworkers) from the industry — Ben Higginbotham, Lex Cole, and Colin Jaros — to contribute their thoughts on these tips as well.