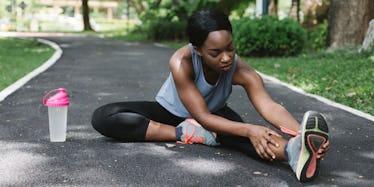 Before You Run Your First Marathon, Here's How An Expert Wants You To Prepare
So, you're running your first marathon. First of all, congrats, girl. This is a big deal, and you're going to have a ton of fun along the way. Since you might be a bit of a newbie to long-distance running, though, there are a few things you should do before you run a marathon to make sure your body stays happy, healthy, and injury-free leading up to the big day.
For one thing, when you start training, you might feel kind of defeated at first because a mere three miles could feel low-key impossible to get through. Don't freak out, though. You'll be amazed at how quickly your body adjusts with commitment and consistency, as long as you start slow and steady. "Give yourself enough time before the marathon to get your body used to the cardio," Dr. Robert Segal, a cardiologist and co-founder of LabFinder.com, tells Elite Daily over email. "Some beginners like to adopt the run/walk method [which means that,] based on your experience level, you run for a certain amount of time and then have built-in periods of walking."
Segal explains that taking these breaks will make your training a little less grueling, and perhaps more importantly, it'll help to reduce the risk of injury. Here are six other tips the cardiologist says are of the utmost importance to keep in mind before you go out there and crush your first marathon.