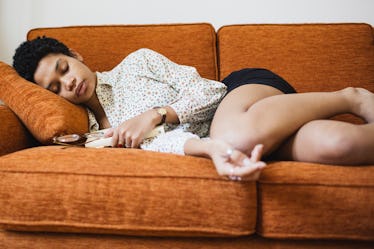 6 Foolproof Thanksgiving Hangover Cures That'll Get You Through The Long Weekend
Whether you like it or not, Thanksgiving comes with the inevitable turkey-induced food coma. But let us not forget that, with holiday dining also comes holiday boozing, and going shot for shot with the fam can lead to one doozy of a headache afterward. The post-feast sleepy vibes are nothing compared to the beer, wine, or hard cider hangover that ensues just in time for Black Friday shopping. Whether your post-Turkey Day plans are to hit the mall early, or marathon cheesy Hallmark Christmas films, you might want a few Thanksgiving hangover cures in your back pocket to nurse you back to health.
I learned all about hangovers the hard way during my college party days. I have to admit, though, that by enduring the menacing nausea and headaches, I've become very in-tune with my body, and I now know exactly how to nurse it properly after a night of getting my drank on. Water is a must, breakfast a close second, and even though the mere thought of working out is cringeworthy when you're seeing double, getting my body up and moving definitely helps me to recuperate.
Personally, I don't drink more than a glass or two of my sister's specialty cranberry sangria on Thanksgiving, so my days of boozy holiday celebrations are long gone. But for those of you banking on being a little shwasty for the long weekend, here are a few foolproof tricks to curb even the worst symptoms.