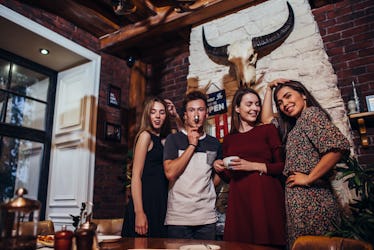 6 Thanksgiving Eve Party Ideas For Getting Turkey Basted With Your Crew
Many of us who are 21 and up know that the only thing better than an actual holiday party is the pregame with your besties. It's like a warm-up to the real thing. Thanksgiving is no stranger to throwing a pregame the day before with all of your friends. Playing around with Thanksgiving Eve party ideas now will save you the headache and time in a couple of weeks.
Thanksgiving Eve parties are a relaxed time where there isn't pressure to list all of your accomplishments to relatives that you only see once a year. It's a safe space for you and your friends to catch up, eat great food, and talk about how much more delicious stuff you're going to eat the next day. Back to that relaxing part, though... it also has to be entertaining.
You have a lot more wiggle room with a Thanksgiving Eve party, because it's a little less formal. It's still something worth attending or hosting, and you can be a lot more creative with activities, food, and decor for your guests. I mean, who doesn't like going ham for the holidays? Or is it going turkey because of Thanksgiving? Sorry, I'm a comedian impersonator. Nonetheless, if you've hit a wall deciding what sort of theme you want to explore for your Thanksgiving Eve party, look no further.