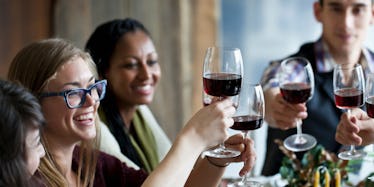 All The Awkward Moments That Probably Happened To You This Thanksgiving Eve
You guys, the holidays are officially here!
The real kickoff to the holiday season was this past weekend when we ate the most, relaxed the most and watched the most television with the fam. Yep, I'm talking about Thanksgiving.
Thanksgiving is the greatest holiday ever invented. I took full advantage of eating ALL the food I wanted with no regrets and falling asleep at 5 pm on the couch — just because it was acceptable.
I also took full advantage of the night before the eating holiday: Thanksgiving Eve. Also known as, "Drinksgiving" or "Blackout Wednesday."
Whatever you prefer to call this night, it's the one occasion every year when everyone goes out in their hometowns and prays they don't run into their exes, high school bullies, ex-best friends, etc. — but they always inevitably do.
It's like a high school reunion you didn't ask for, and it always ends with being extremely hungover the next day.
This year, I'm sure like me, your Thanksgiving Eve went a little something like this... (the same way it does every year):
5 pm: You refuse to go out. You say over and over again that you're over high school and don't want to see any of these fools again.
8 pm: Your best girlfriends get together to pregame. They say you'll go to a different bar, promising no one you know will be there.
9 pm: Four shots later, someone brings out the yearbook, and you start to reminisce.
10 pm: Three beers later, someone is yelling, "CALL THE UBER. WE MUST SEE EVERYONE."
11 pm: Everyone is hugging and kissing everyone from your graduating class... and, despite some bumps in the night, it's not so bad, after all.
The next day...
10 am: "MOM, the turkey!!!!!!"
Ah, and another successful Thanksgiving Eve in the books. Until next year... or the next holiday party!
For more Elite Daily original videos, subscribe to the official Elite Daily YouTube Channel and like the official Elite Daily Facebook Page.