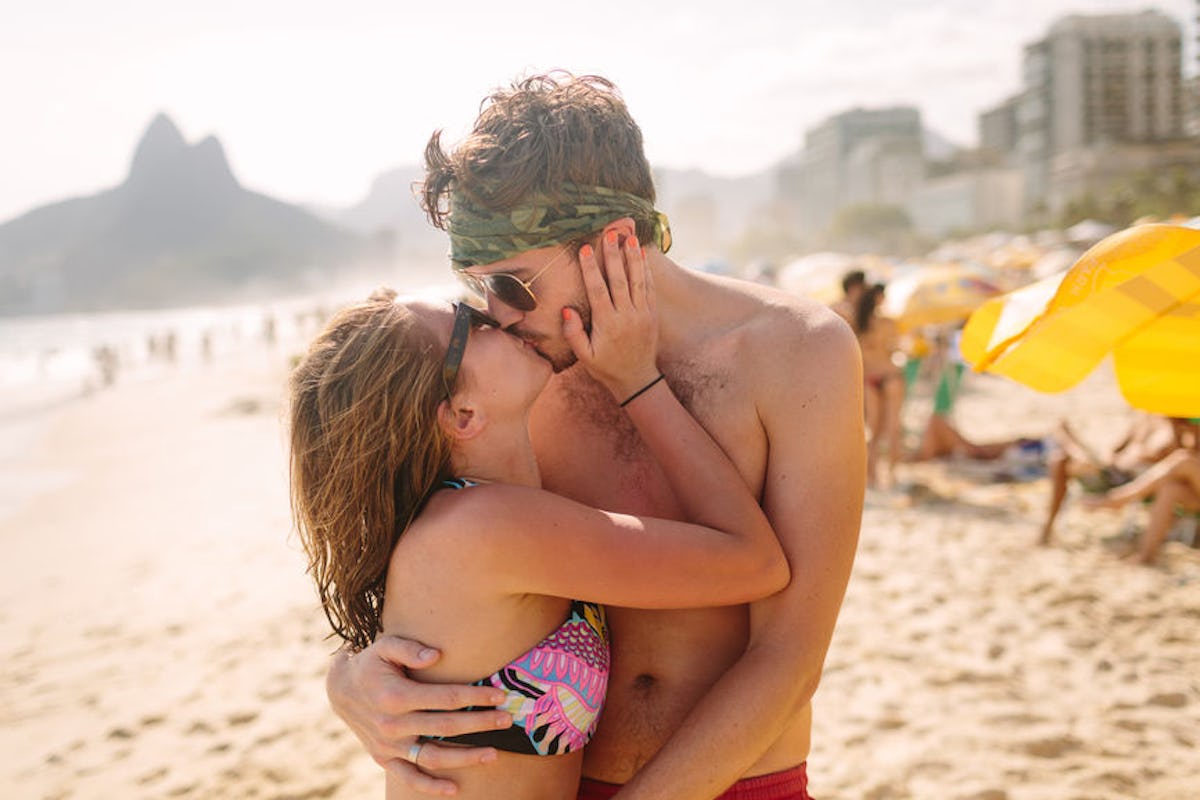 6 People Reminisce On Their Most Memorable Summer Flings & They're Pretty Juicy
Remember when you were a kid and on the first day back at school after summer break, your teacher would ask everyone what they did over the summer? Maybe you had to write an essay about your favorite memory, or partner up with another student to trade tales of amusement park rides and family vacations to Florida. Now that you're in college or working full-time, you've learned to make the most of those all-too-fleeting summer days. With a little luck, when you return to your roommate or work wife in the fall, you'll have some juicy summer fling stories to exchange.
If you need a little inspiration on where to meet your summer fling or how to find a summer sun-kissed cutie in the first place, look to these six women and men. They were all brave enough to share their most unforgettable, most entertaining summer romance experiences with you, dear reader. So whether you end up learning from their unfortunate encounters or envying their steamy hookups, don't be afraid to get out there and make your own memories. Ensure that summer 2018 is your hottest one yet with a sexy summer fling. Even if it doesn't last past Labor Day, you'll always have the story.
Irish You Would Stay
Me and my friend were new to New York City and looking for a bar to hang out in on a Tuesday night. We googled places near us and landed on some hole-in-the-wall Irish pub on the Upper East Side. When we got there, we were the only ones besides an Irish sports team, accents and all. Of course we were all flirting, and I ended up hitting it off with one of them in particular. He was beyond handsome, and that accent… Unfortunately, I soon found out that he was leaving to go back to Ireland in two weeks. We spent almost every day together during that time. When we weren't hooking up, he showed me his favorite places in the city, since I was new and he had been living there since the beginning of summer.
— Julie*, 25
Missed Connection
I was in Italy studying abroad for six weeks in the summer. A bunch of us would all go out at night, and one of those nights I met a hot, older Italian guy in his late 20s. We hung out a few times before I left, and he told me he really liked me. On my last night, the bus was leaving at 3 a.m. to go to the Rome airport. I found out later that he had come to the bus stop to say goodbye to me, but we had already left.
— Karen*, 23
Camp Kiss Me
I was working as a counselor at a summer camp. We were both into each other early on, but didn't acknowledge or act on anything until week five out of six. When all of the counselors were drinking and looking at the stars on the pier after lights out, I held her hand and we started making out. When the others left we went into a cabin. We snuck out for the next week and when camp was over we talked when she was back in the UK (she went to the University of Southampton and had a bit of a British accent), but we fizzled after about a year apart and are now just friends. We probably should've gotten fired.
— Jake*, 22
One Night In New York City
Last summer, I was in New York for a work thing. It'd been a while since I was in NYC so I reached out to an old friend for advice about getting to my hotel from the airport. He was super helpful and I made it to my hotel fine, so I sent a quick text to say thanks. He asked if I wanted to meet for drinks later that day and I agreed. We ended up following those drinks up with a long walk through Central Park and then just aimlessly around the city. By the time he walked me back to my hotel, we'd already spent about six or seven hours together and I could tell neither of us wanted it to end. Or, at least, I knew I didn't. My gut feeling was right and he asked if I wanted to get dinner, which I obviously did. We ended up spending the night together and confessing feelings we had for each other for years but just never acted on. The next morning, I had to leave early to get to an event and he was leaving the city to go visit his dad. We said goodbye and promised to connect a few months later. We never did, but, honestly, that night is still one of my most memorable summer dates. Actually, one of the best dates ever.
— Naomi*, 26
French Kiss And Tell
When I was studying abroad in France two summers ago, I had a fling with a local, Mathieu. I was the only one in my program that hooked up with a local during our stay, which earned me some cool bragging rights, but obviously the fling only lasted while I was there.
— Rebecca*, 23
The German Teacher
We met at a bar and I went home with him. I gave him head in the car and we hooked up. I was so drunk I don't remember giving him my phone number, but apparently I did and we wound up hanging out again. That's when I realized there was a severe language barrier between us (he was German) and neither one of us really knew what the other was saying. To this day I still don't know his name, but I credit him for teaching me everything I know in bed.
— Carrie*, 23
This summer is heating up, all right. Now it's your turn to fog up some windows.
*Name has been changed.
Check out the "Best of Elite Daily" stream in the Bustle App for more stories just like this!