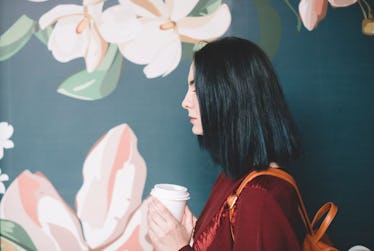 Here's What Might Be Missing From Your Daily Routine If You Feel Tired All The Time
Have you ever come upon the realization, late in the afternoon, that you haven't had any water to drink all day? It seems like an obvious thing to do throughout the day, but in practice, it can actually be kind of hard to remember to drink water, and it's often especially challenging to sip the total, recommended eight glasses of H2O a day. But truth be told, since water is needed for basically every single function in your body, it's important to know how to recognize the subtle signs you're dehydrated, because the thing is, it can be hard to tell that lack of water, of all things, is the culprit behind your lethargy or your mood swings.
For what it's worth, dehydration is actually really common. Whether you're neglecting to replenish your body's fluids after a sweaty workout, or your go-to drink throughout a typical work day is a sugary soda, it's so easy to let hydration fall by the wayside in your everyday routine. As reported in The Daily Mail in 2015, a survey of 300 general practitioners in the UK found that about one in five patients were going to their doctors with health concerns that were ultimately traced back to mild dehydration. What's more, the news outlet said, only 4 percent of doctors in the survey said they believed their patients were actually aware of just how much water they should be drinking per day.
So go ahead and spread the word, OK? And, keep in mind, the amount of water you need may differ from the eight-glasses rule, depending on your size and individual health concerns. But if you notice any of these six signs, then you'll definitely know it's time to amp up your hydration.