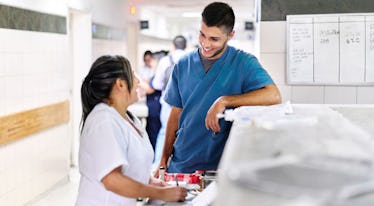 6 Sweet Stories About Workplace Romances, Because They Aren't All Doomed From The Start
It's no secret that dating a coworker can lead to some unpleasant drama, and the truth is that more often than not, it's better to avoid getting involved with someone you work with. However, no matter how many stories we've heard about these types of romances going south at the speed of light, for a lucky few, things do in fact work out. Stories about workplace romances that don't crash and burn are important to acknowledge, because passing on love (or the potential for it) just because you work together could be something you regret later on down the line.
Needless to say, whether or not to dive into a relationship with someone you work with can be a tough decision, but if you've already taken the plunge and things are going well (and you've already informed HR), then there's no reason to sabotage a good thing. We all know that the majority of rules were established based on how things turn out most of the time, so naturally, there are always exceptions to those rules. If for some reason you're still feeling like things between you and your work bae are destined to fail, behold: some examples of workplace romances that will give you hope for the future, thanks to the fine people on Reddit.