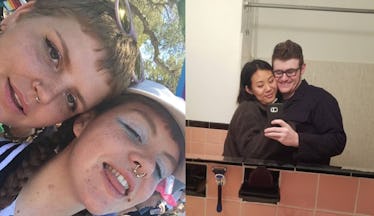 A Behind-The-Scenes Look At 6 People's First Insta With Their SO
Courtesy of Mckenna Maness and Heeyoon Won
This past spring, after an excruciating family outing to the opera, my uncle and I discussed the "waiting three days to call someone" rule. As we sat in his car, I pictured myself years from now, sharing stories about becoming Instagram official with my brother's kids. I wondered if there would ever be a universally agreed upon amount of time for couples to wait before posting about their relationships. In fact, I wondered if there already is.
Oftentimes, the "rules of dating" are really just arbitrary timelines. Wait three days to call someone. Wait two dates to sleep with them. Wait six months to say "I love you." Call me a Charlotte (don't @me, she's iconic), but love has no timeline — especially not a universal one. There's no one-time-fits-all answer to when you and your boo are ready to take the next step in your relationship, whether it's going on your first date or posting your first pic together.
And so, in my pursuit of unlearning all these "dating rules" I asked six couples to spill the real tea on their first Insta together, and what they said isn't arbitrary at all.