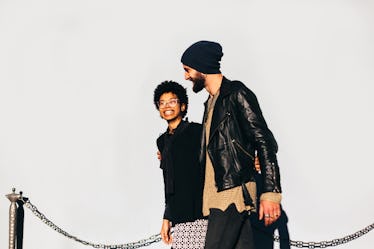 6 Spring Dates That You Can Do Now That The Weather Is Finally Warming Up
If I can anthropomorphize weather for a sec, I think we humans are guilty of using and abusing it. Let me have this for a moment: we love complaining about the very slightest change in it, we only talk about it to others when we are bored and conversation is lacking, and we never remember to appreciate it when it's behavior is stellar. We bully weather. But we shouldn't, because the weather is finally warming up, which means it's time for spring date ideas! Woohoo.
First I'll admit that I'm guilty of bullying the weather myself — after a lovely almost-60 degree Sunday in New York on which I enjoyed a lovely stroll outside, a Monday snowstorm (in April) had me shouting: BETRAYAL! There is something about the warmer weather that improves my mood, makes me more productive, and encourages me to put myself out there in order to find a cutie to enjoy the outdoors with.
A caveat: you absolutely don't need a cutie to enjoy the outdoors with, and being single in the spring should be equally as sweet as being in love. It's strange — I don't know why the change in seasons from winter to spring always makes me want to fall in love, but it does. Does pollen case some sort of fog-like love spell? Does my post-Easter candy sugar high make me prone to being sweet to others? If the warmer weather has you breaking out the apps and winking at all of the strangers in the park (why not!) then here are some spring date ideas that you and your (potential) bae can enjoy.