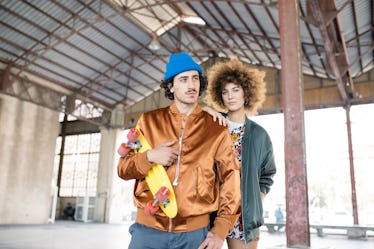 6 Sporty Date Ideas That Will Get Your Blood Pumping & Endorphins Flowing
If you're craving a break from the standard dinner-and-a-movie date routine, getting active can be a fun way to spend some quality time with a new (or not so new) boo. Don't get me wrong, I'm definitely not here to rain on anyone's dating parade — more traditional dates are great, which is probably why we tend to repeat them so often. That said, sporty date ideas present the perfect opportunity to get to know your bae on a deeper level in a less formal setting. Plus, in addition to being good for your general health, studies show being active can also have a positive impact on your sex life.
According to Psychology Today, exercise can lead to a similar hormone release as the one released during sex. So, even if breaking a sweat doesn't sound super appealing to you, getting physical together (outside of the boudoir) can still be a nice change of pace that leaves you both feeling pumped. If you're still not convinced, hold the phone. Research out of UC Berkley found that the scent of a compound found in male sweat, androstadienone, was linked to increased arousal in some women. Sound too good to be true? Put it to the test on one of these fun date ideas.