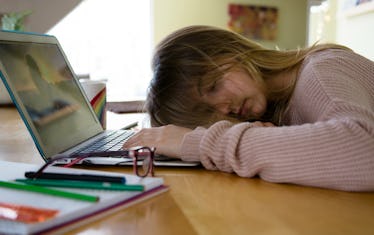 Science Says These 6 Sleep Aids Won't Make You Drowsy AF In The Morning
Juggling academic studies and work-life balance, all while trying to pencil in time for a little self-care is bound to affect your sleep quality — and not to your benefit. No offense to dear ol' mom and dad for suggesting this once upon a time, but counting sheep isn't cutting it anymore. You could turn to snooze-inducing products or holistic solutions for optimal shut eye, though I suggest being highly selective. After all, you want sleep aids that don't make you drowsy the next day, but that also get the job done, right?
A handful of supplements marketed to help you catch some Zs will get you through the night, but ultimately leave you feeling awful in the a.m. Unfortunately there's no one-size-fits-all answer to everyone's sleeping woes, so the only way to find out what gets you to fall, stay asleep, and wake up in the morning feeling like the best version of yourself, is through trial and error.
Interestingly enough, though, raw melatonin supplements, which you might assume should help you get to sleep, often backfire. Certified sleep science coach and founder of SleepZoo, Chris Brantner warns Elite Daily these types of pills and powders are "notorious for making people wake up feeling groggy." Yikes. Rather than pop a few melatonin pills to lull yourself asleep, here are a few sleep aids you can rely on to a) make you snooze and b) ensure you wake up totally refreshed.