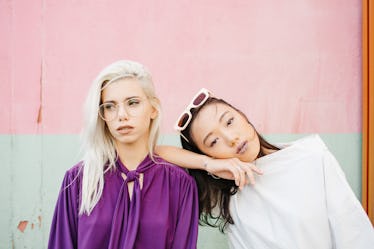 6 Signs Your Heart Isn't In Your Relationship Anymore & It's Time To Say Goodbye
I'm not the best breaker upper. I will dither full of self-doubt and second thoughts forever. I'm not someone who makes any big decision quickly, but that's especially true when it comes to matters of the heart. I'm always afraid that if I make a snap decision, I'll regret it. So instead, I drag it out until the situation becomes so toxic, it just blows up. This is not healthy. Don't be me. Instead, when you see the signs your heart isn't in your relationship anymore, do the brave thing and get out of the relationship. You owe it to your soon-to-be-ex partner, and to yourself.
So, how can you be sure it's time to end the relationship for sure, even if, like me, you struggle with pulling the trigger? Since I'm clearly not qualified to give you this advice, I turned to the experts for their input on how to know your heart isn't in the relationship anymore and, TBH, it makes a ton of sense. Looks like we are all learning valuable things today. Here are the clear signs they say to look out for that could mean it's time to say goodbye to your relationship.