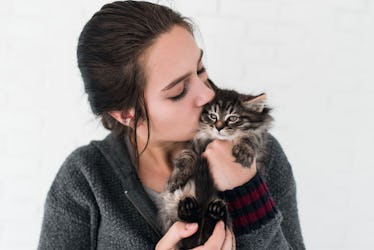 If Your Cat Does These 6 Things When You're Together, Then They Definitely Love You
To be honest, Kit-Kat, my 3-year-old rescue cat, often acts more like a dog than a cat. He loves following me on walks around the block, will sit for a treat, and loves wrestling with my family's dogs. But every once in a while, insecurity creeps in, and I'll ask myself if he really loves me. With dogs, it's so easy to tell; their emotions seem much less complex than a cat's. Luckily, in an interview with Elite Daily, Dr. Kurt Venator, the chief veterinary officer at Purina, revealed some of the key signs that mean your cat loves you, and TBH, they're pawsitively adorable.
While noticing your kitty doing some of these things may allay some of your anxieties about whether your cat adores you or just tolerates you, Dr. Venator stresses that each little feline friend is unique, just as humans are, and therefore may show affection in different ways. Some cats are just happier with less physical contact, he tells Elite Daily, so don't get too discouraged if your kitty doesn't seem eager to bond. She may prefer to lurk around you, rather than sit right on your lap or rub right against your shins.
If you want to bond a little more with your cat, Dr. Venator suggests teaching her some tricks (yes, cats can learn tricks, too) or joining her for a nap in her favorite sleeping spot. "If your cat does not already seek you out to snuggle, identify a time and place your cat often takes a snooze and join him or her. The relaxing time and social contact should help to reinforce your bond," he tells Elite Daily.
But, if you're eager to identify some of the signs that mean your cat really does love you as much as you love them, here's what to look out for.