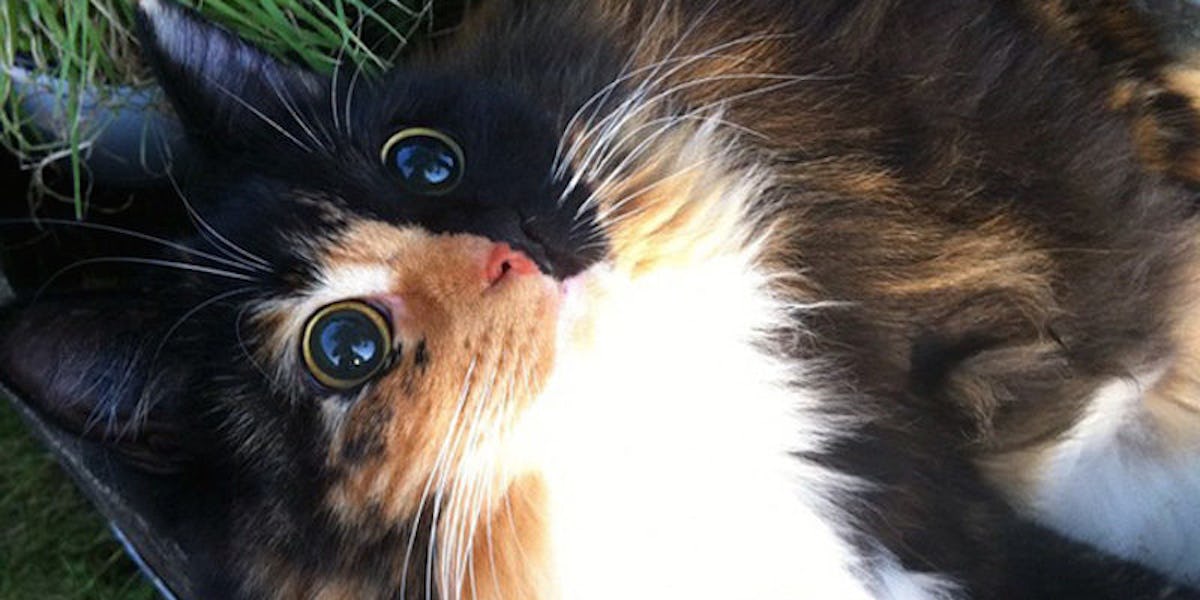 This Adorable Blind Cat With Huge Eyes Will Totally Steal Your Heart
Thanks to the Internet's extreme obsession with animals, it's not hard to find some seriously adorable felines floating around the Web.
Remember when I showed you that charming cat with gigantic eyes?
Well, if that lovable little cat stole your heart, you might want to grab a box of tissues.
I just found another wide-eyed cat who is so damn cute, just seeing her is pretty much guaranteed to bring on the waterworks.
Meet Jasmine.
This gorgeous calico kitty is actually blind, and she was wandering the streets of France as a stray until the Association Adoption Féline came to her rescue.
Shortly after a few photos of the cat were posted on Facebook, she was adopted by Sandra Coudray, and thanks to her new loving home, this once timid cat is now a happy and affectionate house pet.
Coudray told LoveMeow,
I immediately wanted to adopt her knowing that she was blind as I previously lived with a cat who had become blind with age... Last time I went to Normandy for a few days to see my family and left her in the care of my brother. She waited for me on my bed most of the day every day. Now she can not do without us, and we can't do without her. She brings us so much joy and love.
Take a look at the pictures below to see this cute kitty cat.
Jasmine may look like your run-of-the-mill feline...
...but those big peepers don't do much for this charming kitty cat because she's actually blind!
Jasmine was a stray, malnourished cat wandering through the streets of France until a cat adoption agency found her...
...and brought her into the life of her new owner, Sandra Coudray.
Thanks to lots of love and TLC, this once skittish cat is now a friendly furry companion who loves to cuddle up with Coudray.
Lately, Jasmine has become quite a sensation on social media. But then again, that shouldn't come as too much of a surprise...
Since this delightful cat might be the most precious pet on Earth...
...and has a sad story with a happy ending that will really tug at your heartstrings.
Citations: This Blind Kitty Found On The Street Has Eyes No One Could Resist (BoredPanda), Blind Cat Has the Look Like She Can See Beyond Limits (LoveMeow)