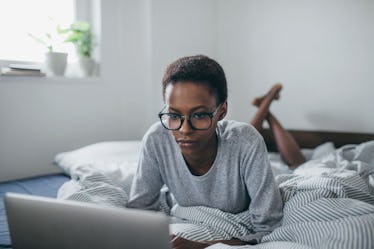 You Can Do These 6 Side Hustles Straight From Your Bed, So You Never Have To Put On Pants
Getting to lounge in bed all day long is pretty much the definition of luxury, in my opinion. You have everything you really need: soft sheets, a warm comforter, and the most relaxing atmosphere you could ask for. Of course, having a soothing bedroom requires paying rent, so you might feel compelled to leave your bed to, you know, make a living. Well, burrow a little further under your covers, because there are side hustles you can do from bed, and they'll make your dream of never putting on pants a reality.
The extra good news is that you can commit to these opportunities as much or as little as you like, and it doesn't even have to be a regular thing, if you don't want it to be. Since you aren't locked into a job contract or a set-in-stone schedule, you can pick up tasks whenever you feel like it. If you're saving for a trip abroad, spend a couple of nights a week completing copyedit jobs, for example, and you'll have some extra gelato money.
Of course, starting up a side hustle doesn't always have to be just about the money, although getting paid is obviously pretty important. If you're looking to break into a new field, starting off with a side gig might be the perfect way to test the waters and build up your resume before committing full-time. If you've always dreamed of being a freelance writer who could also spend all day every day in bed with her dog, get your toes wet by pitching a few awesome ideas, and who knows — your dream might just come true.