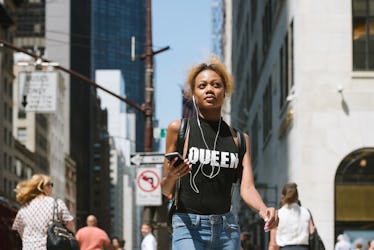 If Your Period Just Makes You Go "Ugh," These 6 Podcasts Will Change Your Perspective
The day I got my period was quite a moment to remember, and not just because I was wearing a red tracksuit (ah, the symbolism). No, I'll always look back on that day and, instead, remember how my mother announced the news to my father with pride. To some of you, that might sound cheesy and incredibly embarrassing, but that was my mom's way of teaching me that periods aren't something to whisper about; they're something to be open about. I guess that's why I love listening to podcasts about periods; they're the perfect place for anyone who's ever had a period to turn to as a friendly reminder that they're not alone in whatever menstruation throws at them, and that, above all, you can be loud and proud about bleeding. It is what your uterus was made to do, after all.
Listen, I'm not going to sit here and act like I'm menstruation's number one fan, because I'm definitely not. While I may not be waving a red foam finger in celebration every time Mother Nature runs her course, though, I do wholeheartedly appreciate the female anatomy. I find it fascinating, not to mention pretty badass, that anyone with a uterus can endure borderline debilitating cramps, unyielding cravings for the most perplexing food pairings (pickles and scrambled eggs, anyone?), back aches, headaches, all while bleeding out of their vaginas, and still conquer their day's to-do list. It's simultaneously fabulous, and unfortunate, and personally, I think it's something worth talking about. Evidently, so do a select few podcast hosts.
Of course, if you aren't comfortable bringing up your period to your friends and family, I totally get it. Menstruation is an incredibly intimate experience, and not everyone loves chatting about how heavy their flow was this month. But even though talking about your period might not be something you're into, hearing other people discuss their experiences might be, because then at least you'll know you aren't alone in what you're going through.
Here are six of the best podcasts about periods to tune into when your time of the month takes over.