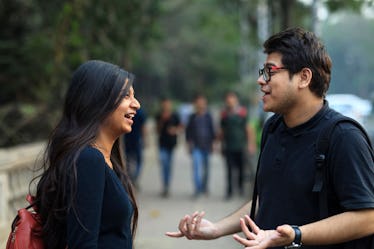 6 Kinds Of People You Probably Hooked Up With At Least Once In College
College is the dressing room of life phases: You can try on a sexy LBD, a grungey plaid ensemble, or a preppy sundress all in the pursuit of discovering who you really are. You might not have discovered your "type" yet and since college is a veritable buffet of people, chances are you'll go on dates with all different types of humans in pursuit of discovering who and what you really like. There's nothing more telling about your phase of discovery than looking at the people you date in college.
We all go through phases. In fact, two of my girlfriends and I had the exact same phase in college: falling for the star of the school musical. Now, I'm not a rabid musical theater fan, but when I saw Conrad Birdie in Bye Bye Birdie, I had to date him. It turns out my friends had the same reaction and we all briefly dated our respective Birdies. Of course, the guys were not really the confident, sexy pop stars they played onstage and when we all realized the obvious we were like, "Oh, you're not really Birdie? OK, bye." While our Birdies might be telling the story of how they dated fangirls, everyone in college can relate to running into these classic personality types.