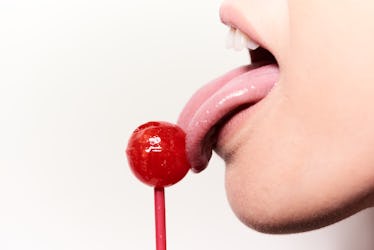 6 Sex Moves To Try If You Love Oral Sex & Want To Make It Even More Satisfying
How many licks does it take to get to the center of a Tootsie Pop? I'm still not quite sure but it's probably not as many as you'd need to get your partner off during oral sex — with the right moves, of course. That's right. There are oral sex moves. If you've only ever done it one way, buckle up; things are about to get steamier.
There are a lot of reasons you should be having mind-blowing oral sex. For one, some people argue that oral sex is far more intimate than other types of sex because it requires more attention to detail and reciprocity isn't always a guarantee. Plus, studies show that performing oral sex on male partners can elevate a woman's mood, enhance affection, and induce sleep because of certain chemicals found in semen.
Either way, enough people are engaging in cunnilingus and analingus that you can even buy lingerie designed specifically for having clean and safe oral sex. Now, all that's left is to master a few ways to keep things fun. Here are five oral sex moves you need to try ASAP.