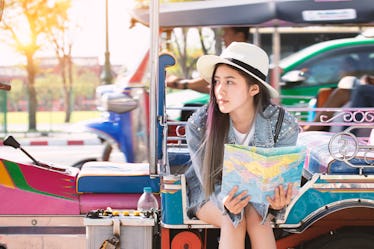 The Best Trips To Take Alone When You're Nostalgic & Feel Like Traveling Back In Time
Sometimes, you don't travel solely for the destination, but the feeling you get when you're away. That's why you may head to a spa when you want to relax and recharge, or head back home when you want to catch up with hometown friends and take a stroll down Memory Lane. If you're looking for something to remind you of the good old days growing up, you might want to consider nostalgic weekend trips to take alone.
I love using my weekends for mini solo trips. When you're traveling alone, you get to really immerse yourself in the new location and try all of the things you've always wanted to do. There's no need to compromise with another travel companion, because you're by yourself.
For someone who's feeling nostalgic on the reg, you're probably wishing you could head back in time and relive some of your favorite childhood vacation memories. But until Marty McFly shows up, you can always go on any of these six quick weekend trips. A lot of these ideas might be things you used to do as a kid when your family vacationed over the summer.
When you're packing, don't forget the '90s neon fanny pack and tons of overalls. Also, make sure you have some of your fave boy bands on your vacation Spotify playlist, because you're going to feel nostalgic AF.