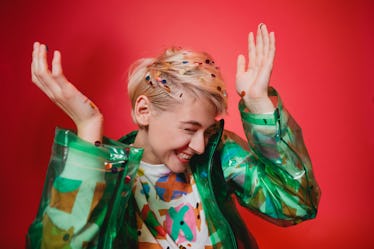 The Simplest New Year's Resolutions To Make For Your Mental Health, According To Experts
Sergey Filimonov, Stocksy
When a new year is approaching, it's natural to want to make some changes. But all too often, the goals you set can be unrealistic, and as a result, they can cause you to be too hard on yourself when things don't pan out the way you thought they would. For instance, last year I made a resolution to stop ordering Seamless, and quite frankly, I don't know if I lasted even a week. This year, I think New Year's resolutions for mental health are where it's at. I'm talking anything that makes life less stressful, and is more oriented to taking care of that precious, beautiful mind of yours.
Real talk: I'm the kind of person who needs to spend a lot of time taking care of my mental health in order to function. That's just who I am, and I'm cool with it. But many of us work so damn hard all the time, y'all, and paying attention to how you're really doing on a mental and emotional level can definitely take a backseat sometimes to things like work, school, family, and friends.
So if, as 2018 comes to an end, you're racking your brain as to how you want to make next year different, allow yourself to think of all the ways you can go a little easier on the external goals. Focus on taking care of you in 2019, my friends. Remember: It helps you care for the people around you, too.