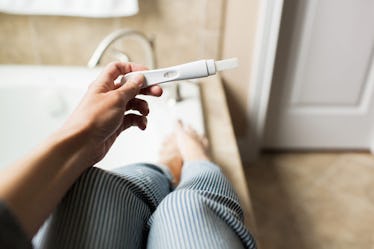 6 Myths About Getting Pregnant You Need To Stop Listening To ASAP, According To An Expert
I don't know about you, but my middle school and high school sex education classes consisted of us girls being taught that we were like "flowers." We were given three strict rules: Nothing below the neck, nothing laying down, and nothing comes off. Suffice it to say, I learned nothing valuable. Instead, I learned several myths about getting pregnant that just were not true, because unfortunately, there are lots of misconceptions when it comes to pregnancy and sex education.
Seriously, my school's decision to teach abstinence-only sex ed probably did more harm than good. It failed to teach me about the lies surrounding sex and how you can get pregnant. Being a girl is tough and confusing enough as it is, so the last thing we need is to be bogged down by misinformation. How can anyone deem it unnecessary to educate women on how their bodies work, or how to safely prevent pregnancies?
We all deserve to have the facts we need to live our must fulfilling lives. To clear up some of the most common sex myths, I spoke with Dr. Stefani Threadgill, a sex therapist and sexologist, about what's really going on in our bodies when it comes to sex, pregnancy, and beyond.