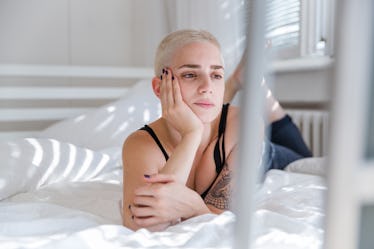 10 Things Your Body May Be Trying To Tell You If You're Spotting Between Periods All The Time
Everyone has been in that unfortunate situation at least once before: You're bleeding at the wrong time of the month. Not to be overly dramatic, but it can be borderline apocalyptic to find out that you're spotting when you weren't prepared for it (i.e. when you're wearing your cleanest, whitest pair of pants). What most people don't know, though, is that there are certain things your body may be trying to tell you if you're spotting between periods all the time.
Your menstrual cycle is entirely reliant upon, and determined by, the flow of hormones like estrogen and progesterone in your body. This is why contraceptives can often affect your period in unexpected ways: Whenever you add or subtract hormones from your system, you're inevitably making some sort of an impact on your period.
But what does it mean if you're spotting all the time between periods? Of course, a little bleeding at the wrong time of the month doesn't equate to a death-bed situation. In fact, it often means absolutely nothing at all. Mother Nature is just a fickle lady. But if it's happening more often than not, there's a good chance your body is trying to tell you something, and you should pay attention. Here are 10 potential things your body is trying to call attention to if you're spotting all the time.