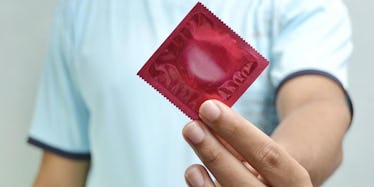 Guys Might Be 'Stealthing' You And You May Not Realize It's Actually Sexual Assault
Getty Images
Have you ever been "stealthed"?
Don't know because you've never heard that word before? Well, let me break it down for you here.
According to a new paper published in the Columbia Journal of Gender and Law, "stealthing" is an awful trend where men purposely take their condoms off secretly mid-sex, without the consent of the other person.
In the paper, author Alexandra Brodsky explains that this isn't an uncommon form of sexual assault.
She actually found multiple websites devoted to letting victims share their information and stories about stealthing, and she even discovered a Reddit thread full of over 70 comments regarding users' experiences with the topic.
It may seem like NBD to a lot of the dudes who do it, but to any victim of stealthing, this is an extremely violating experience.
In her paper, Brodsky got in touch with victims of stealthing to discuss the emotional and physical effects they endured.
One victim, Rebecca, said of the physical consequences, "None of it worried him. It didn't perturb him. My potential pregnancy, my potential STI, that was my burden."
Needless to say, the knowledge that you were just penetrated by someone who was totally unworried by the potential pregnancy or sexually transmitted infection he was giving you also comes along with some emotional reactions.
Another one of the victims Brodsky spoke to further paints us a picture of these emotional consequences:
The harm mostly had to do with trust. He saw the risk as zero for himself and took no interest in what it might be for me and from a friend and sexual partner. That hurt.
On the flip side, Brodsky sought to look into why men who stealth do what they do. To do so, she uncovered and started reading websites actually dedicated to teaching men how to stealth their partners successfully (because, yeah, those exist).
She explained that most of the commenters on these sites justify their actions as their mysoginistic, "natural male right." For example, one commenter wrote,
It's a man's instinct to shoot his load into a woman's *****. He should never be denied that right. As a woman, it's my duty to spread my legs and let a man shoot his load into my wet ***** whenever he wants.
To that, another person responded,
Oh I completely agree with this. To me you can't have one and not the other, if she wants the guy's **** then she also has to take the guy's load!!!
Yes, it should be terrifying for everyone reading this that there are 21st century individuals who genuinely believe a woman has to do anything sexually. That should NEVER be the case.
While one of the victims in Brodsky's paper described the act as "rape-adjacent," it is still not considered a punishable offense in the US. That said, it's likely many individuals would run into a legal rut if they tried to seek help after stealthing occurs.
Brodsky concludes her paper by urging U.S officials to make the necessary changes by explaining that "'stealthing' doesn't just 'feel violent' — it is."
And now, it's time to do your part in raising awareness for this uncommonly known form of sexual assault.
Citations: What You Need To Know About The Disturbing Sexual Assault Trend Called 'Stealthing' (Women's Health), 'Rape-Adjacent': Imagining Legal Responses to Nonconsensual Condom Removal (SSRN)