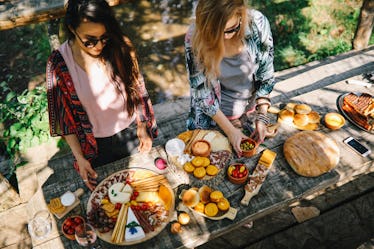 TikTokers Are Making Mother's Day Charcuterie Boards To Show Mom Cheese The Best
lechatnoir/E+/Getty Images
Forget flowers, you're stepping up your Mother's Day celebrations this year with elegant food and fancy arrangements. While cooking up a hearty brunch might be your usual way to do this, you can really impress your mom with a show-stopping presentation filled with meats and cheeses. These Mother's Day charcuterie boards on TikTok are thoughtfully chosen, creatively designed, and best of all, make the best pairings with your mom's fave wine. Creating one of these will let your true BFF know cheese the best.
If your mom's favorite meal of the day is breakfast, there's a Mother's Day charcuterie board that goes perfectly with her choice dish. Rather than making her one a simple batch of pancakes, these brunch charcuterie boards lay out all her favorite morning snacks to start her day off right. Does your mom have a sweet tooth? There's a charcuterie board that can double as a dessert buffet. If you decide to keep things traditional, there are TikToks that can also give you some design inspo to make a board that matches your mom's timeless style.
Whichever board you opt for, you'll create some quality time and tasty memories with your mom when you munch on these Mother's Day charcuterie boards on TikTok together. Not only will she appreciate your winning spread, but she'll also cherish having more time to spill the tea with her favorite kid.